The best thing about fashion is that it's always evolving. Even today, fashion designers are taking inspiration from different eras and merging it to fit the new generation. This has given women hundreds of styles, silhouettes and even neckline options to choose from. However, some trends become difficult to adopt as they expose those bra straps.
That's when multiway bras come in handy.
Checkout Jockey Woman's Strapless/Multiway bra
Opt for a smooth & sensitive ultra-grip GECKO elastic, which provides excellent grip, leaving no rashes or marks on your skin even after prolonged hours of usage.
If you choose this style, make sure the bra you are wearing fits securely and the under band offers the right support and fit.
What is a multiway bra?
A multiway bra can be styled in multiple ways and who doesn't need a bra that can adapt to different moments and styles. This bra offers maximum flexibility, and the detachable straps give you the freedom to wear your favorite outfit without worrying about the straps, whilst enjoying full support & comfort. So, if you are someone with a versatile wardrobe, a multiway bra will be your best friend.
While this type of bra is a must-have for every woman, there are a few things to keep in mind before purchasing a multiway bra, such as:
Once you have picked the right bra that offers everything you are looking for, here's how you can experiment with it in creative ways:
Strapless bra
One of the most conventional uses of a multiway bra is to wear it as a strapless bra. All you have to do is remove both the straps from the notch and team it with an off-shoulder dress or a tube top to get a perfect look.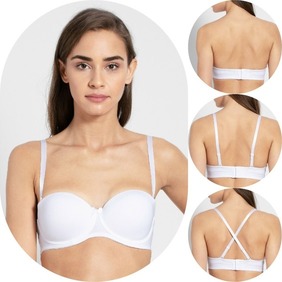 Halter bra
Halter necklines have been redefined by fashion designers in almost every decade. This is mainly because they look chic, playful & effortless. But wearing a standard bra on this dress can totally ruin the look. Hence, pair a multistrap bra with it. To get the perfect look, all you have to do is use just one strap of your bra and extend it to its fullest length and hook each end of the strap to the front of your bra to create a loop and you are good to flaunt your halter dress!
Criss-cross bra
This is another very conventional option or style preferred by many women; especially those with heavy breasts, as it offers extra support. To get this style, detach the straps from its notch located at the back of your bra and reposition each strap into the hook of the opposite sleeve, thereby, creating an "X" with your straps. This is a perfect style to team up with your racerback tees and dresses.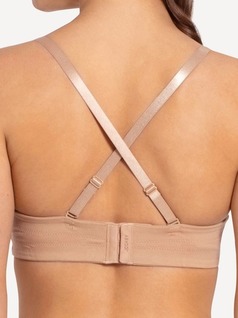 Transparent straps
Multiway bras come with transparent or clear elastic straps that let you enjoy maximum support and comfort of a bra, while giving you the freedom to wear outfits of your choice without taking away any attention from your beautiful dress. These invisible straps are best paired with spaghetti tops, sheer or lace dresses and even a backless blouse.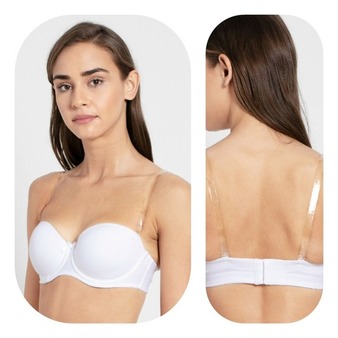 Your bras should never impact your sartorial choices. Let your bras inspire you to be more creative and take your fashion game to the next level, which is exactly why a multiway bra should make way to your lingerie drawer ASAP!